Yes you can! How to make money as a travel blogger
I've got good news. You can make money by travel blogging. Once you build an audience around something you love and know well – travel- you can actually make money out of your passion.
In the digital world, bloggers are becoming more and more influential. While this is nothing new, did you know that over 80% of all consumers will make a purchase after reading about the product on a blog? Or that 18-34 year olds ranked bloggers as their most valued and important source of information? The stats don't lie, and brands are quickly realising the impact bloggers are having on their consumers.
Initially you won't make much money off your travel blog (you can, but you need super high traffic numbers) but because of your travel blog you will start to make money. It's just a shift in thinking. Blogging can open up many doors for you, but they won't open until you're established as an authority figure and have a strong readership base. If you want this to be a long-term lifestyle then treat it as such.
Even better news coming your way. To earn money travel blogging, many suggest that you need to pick something niche that you love and are good at and then make that your brand. Just imagine that- you get to do something you love every day and you get paid for it.
STEP 1 – find your niche!
Like any strong building, it's important you find your niche and get your foundation in place. Draw up a business plan that includes the following.
Your brand and messaging
Solid and regular content
List of email subscribers- how you will get and how you will maintain them
Functional and professional website
Social media communities
Your USP (unique selling proposition)
Network of contacts who support you
Media kit
Tools and Resources
Testimonials
Initially it takes an investment of time, money and commitment like any business. There will be a best way for everyone and a specific business model for you, depending on your skills, time commitment, goals, location, travel experience, and demographic. Whether you are strong at photography, video, or the written word, different doors can open for you. So that's step one- If you want to make money as a travel blogger, you need a long-term business plan. If all you're doing is aiming to get free trips then you will not make it long-term, as a travel blogger.
STEP 2 – Get experience and the right teachers
If you treat it like a business from the get-go, and that means investing in education, tools and resources, then you'll get paid as a business, not as a hobby. Think like an entrepreneur, not an employee. The main difference is that now you are trading value for money rather than trading time for money. It's a huge mental crossover and if you're not ready for it, it could take you out of the game.
You need to learn how to blog properly and how to link your blog all over social media properly so that people want to hear what you have to say. You need to listen and hear, then write, what people want to read. Don't just decide yourself- listen and really hear; what would people like to read about? Sorry about repeating that but it is KEY to this process.
STEP 3 – Write prolifically
Write prolifically and grow to the point where you have a lot of value to exchange. That's the best way to build your foundation, which will later make you money as a travel blogger. Put in the hard yards to establish your credibility, build your value and build a community. Most start-up businesses take 2 years of intense work before money starts flowing in. The best way to make money travel blogging depends on what skills and value you can bring to the table –play to your strengths. Be creative. Be different. Many people suggest finding a niche and it's not a bad idea especially if you have a niche that fits you perfectly. My niche is underwater environmental photojournalism and SCUBA travel.
STEP 4 – Create your own products
Creating your own products or services is a stable way to earn an income off your travel blog. So when you write that business plan of yours, start investigating the different products you can create and the value you can provide through them. Be creative, there's so much you can do. Just on your blog or website you can offer people a lot of free downloads and advice. As long as your advice is sound, people will download it and want to read more.
Another product often overlooked for a travel blogger is a Mobile Travel agency and specialist tour guide. Set up your own mobile travel agency. Take people to places you know well. If you have a particular skill such as photography you could add in a course and teach something too.
Download FREE eBook featuring 18 International scholarships to fund overseas experience travel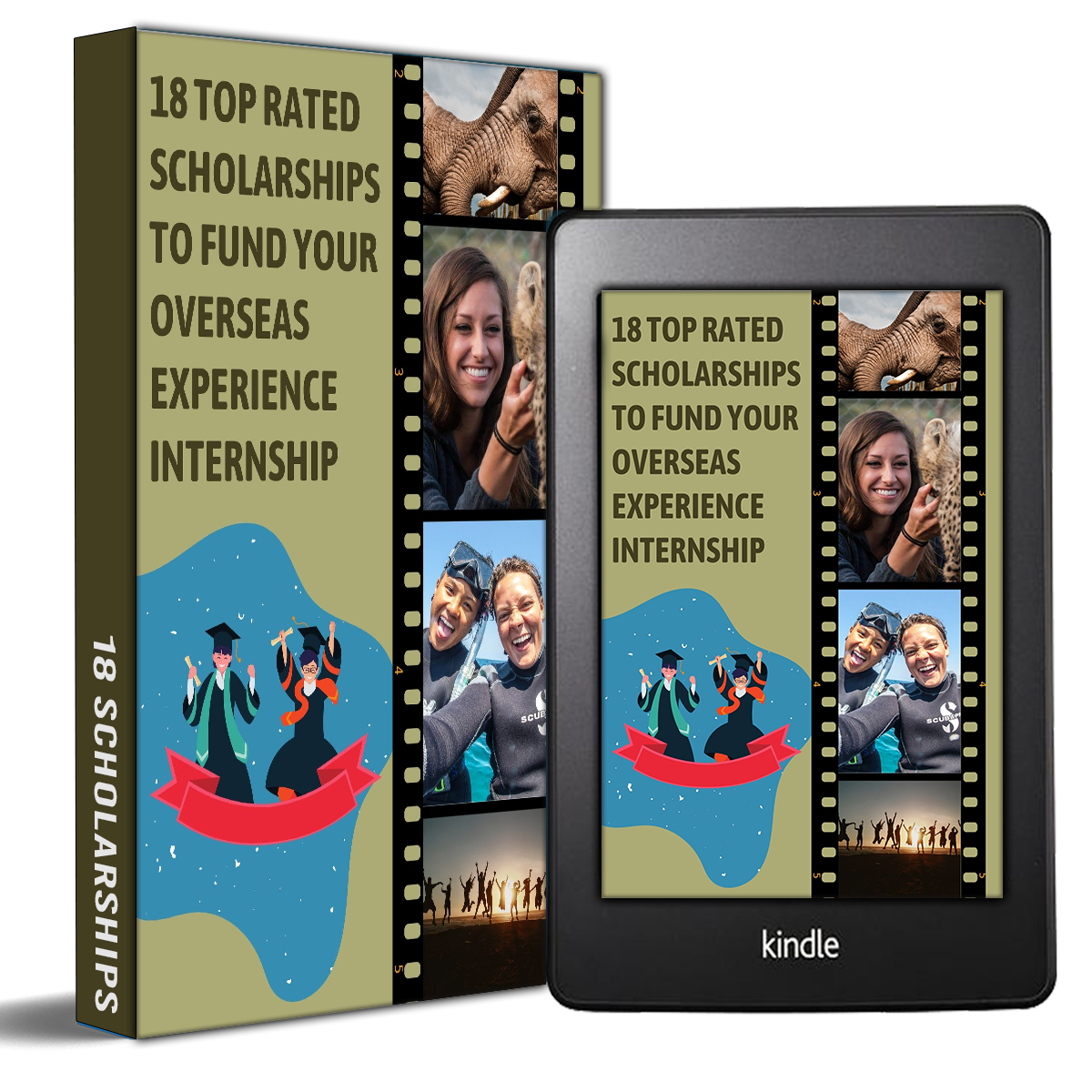 STEP 5 – Paid marketing campaigns with brands
There is a wealth of work in promoting destinations. Work with destinations to promote their experiences via your travel blog and social channels. Work with them to choose activities, experiences and destinations that your readers will enjoy; that are of high quality and you know our readers will be interested in.
Don't participate in campaigns that don't fit with your brand or readers. Get a blogger brand campaign to love your work. Take a look at http://www.blogmeetsbrand.com/. Also note that there are many more such sites and opportunities on the web.
Below are the main aspects of a blogger that brand campaigns consider:
Good Trust & Citation Flow on their website – This will help show that the blog has a healthy backlink profile
Lots of search visibility – We use a few different tools to measure this, all of which show different result, but ultimately we want to be targeting bloggers who have plenty of visibility in the targeted location to ensure the campaign will be seen
Good social following – What we define as 'good' will depend on the niche in terms of numbers. However we want to work with bloggers who are engaging with their audience, are very active on all or most of their social media platforms, and are getting 'real' likes, comments, shares, subscribers, etc.
STEP 6 – Make money with sponsored posts
Do sponsored posts. A few times a month, have a sponsored post published on your site. This is when a brand wants you to promote their product or experience for any particular reason. Again, choose carefully based upon the criteria above. Share products or services you understand, believe in and would use yourself. Sponsored posts are basically like an advertisement that is written by you. Sometimes these may come in the form of a sponsored social media update as well.
STEP 7 – Speaking
When you become an expert in your field you will be asked to present at conferences, such as blogging and social media conferences. You may receive compensation for this but more often than not, it's about networking and getting your name out there.
STEP 8 – Become a mentor and coach
At Africa Media we put a fair amount of work into this. We offer internship programs where we train students and share our tips and insights. We have an active Facebook group where we answer questions and help guide and support our past students.
STEP 9 – Affiliate your blog
Affiliate marketing is one of the best ways to make money from your travel blog because you only set it up once, and the income keeps coming in forever more. It's passive income and is where you find your true freedom.
Now, there is work required and you do need to have traffic and an audience who trusts you, and you want to be honest with your affiliate marketing to maintain that trust, but it's the best form of leverage when making money blogging. This is where you promote other people's products and services and receive a commission. Only recommend products or services that you personally use, like and trust. If you haven't used the product then ensure you know the source as highly trusted and reputable. For example you could set up an affiliate partnership with booking.com or airbnb. Try not to shove hundreds of different accommodation-booking sites in your reader's face just to make money.
STEP 10 – Write for other media outlets
Try to get freelance content creation gigs running and linked to your site. If you can write regular columns and blogs for magazines then this will give you a lot of traction.
You could create videos for tourist boards and try some ad hoc freelance writing gigs here and there, including some print. All of this helps to secure your position as the travel blogger to listen to.
In the end..
Establish yourself as a blogger first, then, as long as you choose them well, the service/product offerings you put out will strengthen your credibility as an expert. It is a self-propagating circle at times but requires that base expertise in every single case.
Connect with other travel bloggers who are making it work. Network with them and find out how they do it.
Last but not least – I am often asked– How much money can you earn as a travel blogger?
There is no simple answer to this. Some travel bloggers make a few hundred dollars a month, some a thousand and some even more. The majority of travel bloggers can earn enough money for them to live well in developing countries. This is a very worthy goal.
If someone else has done it, it's evidence you can too. Now all you have to do is learn and carve out your own path? You can achieve a full-time income from your travel blog when you focus on longevity, establishing your authority and credibility first, and building a loyal following, that you value right back.
Blogger Profile - Fiona Ayerst
Fiona is a world renowned underwater photographer and winner of numerous awards. Passionate about documenting the underwater world, she hopes that her photos will inspire greater marine conservation efforts. She developed and oversees the Underwater Photography internship for Africa Media
Kickstart your wildlife media career!
Find your perfect wildlife media speciality program