How to become a successful travel vlogger
Being a vlogger is an ideal life for anyone interested in travelling and/or film. Go to as many places as possible, take videos of yourself doing awesome things, and share it online. It's a travel blog, but in video form. If this sounds like something you'd love, you're in luck! Vlogging has become one of the preferred forms of travel content on the internet and a lot of people are even making a living out of it. Here are some important tips to keep in mind if you want to become a successful travel vlogger.
To become a travel vlogger, you need to travel
The first step to having great vlogging content is travelling to interesting destinations. Nobody is going to watch more of your videos if all of them are about your home town. Also, there are easier, less expensive ways to travel than flying to the world's top destinations. You can get in your car and drive to the less-known towns in your region, or make a vlog on a local monument. 
Have a great profile on your chosen video platform
Whether you've got a YouTube Channel, a Vimeo account or another platform for sharing your videos, make sure your profile is flawless. Your profile picture, description and header should all fit your travel vlogger brand. Make sure this brand also carries through to the content of each video you post.
Grab their attention
Your vlogs need to have informative, interesting, inspiring, captivating content that means something to the viewer. It needs to be engaging and drive your viewers to action: sharing, liking, commenting and even planning a trip to the place you spoke about. Keep their attention for more than a few seconds by incorporating a storytelling element. Make sure that your vlogs are original and that you're offering something totally different from all the other travel vloggers out there. This is how you will gain a loyal follower base that will subscribe to your channel and follow you on your adventures. 
You don't need expensive gear
Smartphones are, quite literally, the future. You can even buy smartphone accessories for better quality video footage. If iPhonography can be a real thing these days, then quality phone videos are too. It's a waste of money to buy a big, expensive DSLR or video camera and microphone right at the start of your vlogging career. You might not even know if you're going to pursue it full-time yet. Rather invest in other equipment once you've already become a travel vlogger and receive a steady income stream from it. 
Focus on one message/subject per video
Don't include all the details of your trip with every video. A day-to-day "diary" style might work well for one video, but not all of them. Firstly, it will be too much information for the viewer and they might lose interest because they're not following a specific focal point or storyline. Secondly, if you focus on one video theme, it makes for a more rounded vlog with a clear focus. Find a single interesting element to the place or activity that your vlog is about, and structure your whole video around it.
On-camera confidence
The essence of a vlog is that you are also the speaker or presenter. Speak to the camera as if you're talking to a person face-to-face. Don't be awkward or shy. Talk with confidence and authority. You already have your script or information in your head. So, just tell your audience about the place you're visiting as if you were telling a friend about it. Make sure you speak clearly and audibly, and that every fact or piece of information you give is true and accurate. 
Download FREE eBook featuring 18 International scholarships to fund overseas experience travel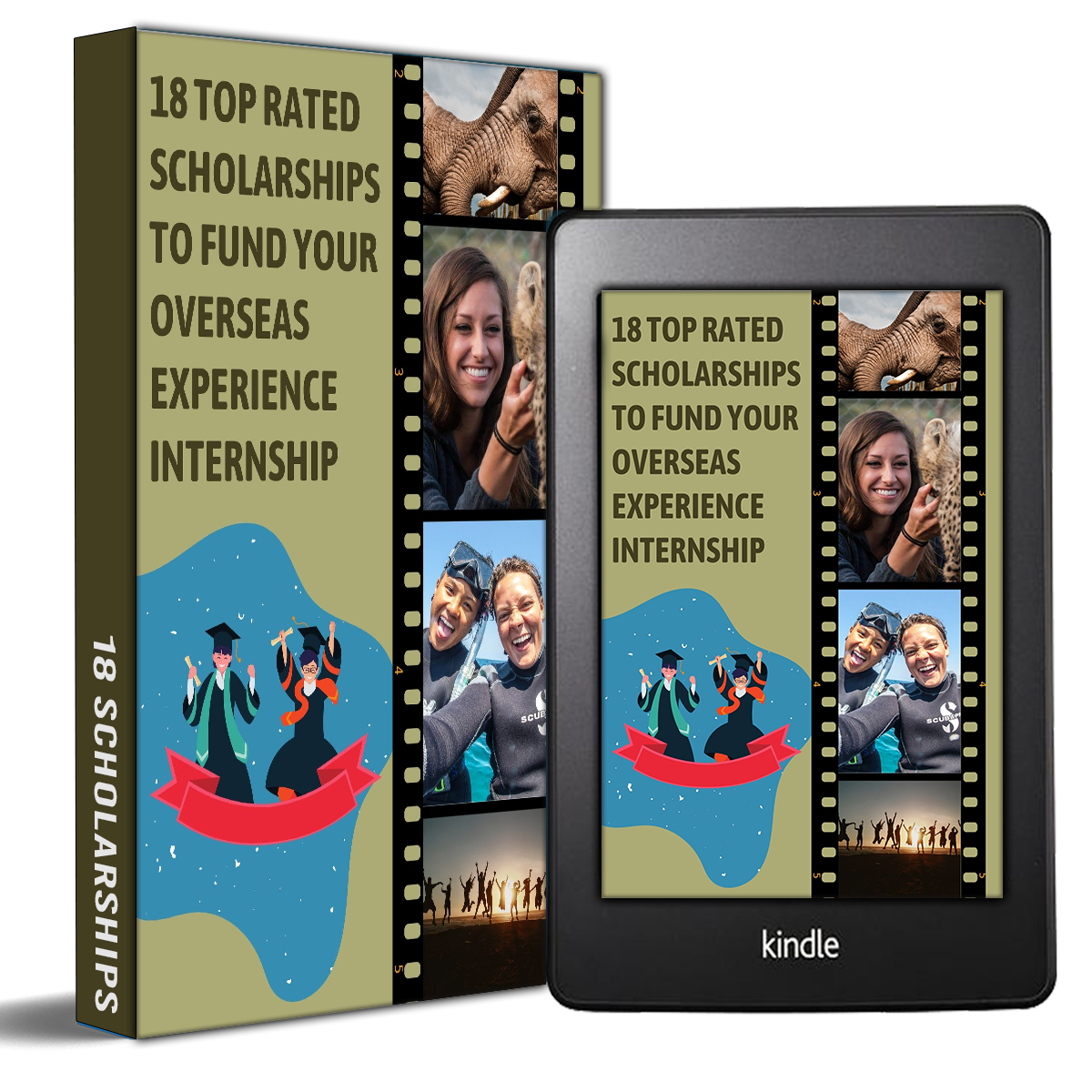 Remember to have B-roll
B-roll, as most filmmakers will know, is footage of other elements (besides you talking into the camera) that you include in your video to make it more interesting. In other words, for a travel vlog, it adds more dimension to your representation of the place. For instance, you can include short clips of your accommodation, street scenes, landscapes, architecture, other people, details of the activity you're busy with, etc. 
Make sure you're not speaking in the wind
This is a simple tip, but very important. If your phone, camera or mic picks up the wind while you're doing a piece to camera, it will contort your sound completely and you'll have no audio to work with. When you're speaking and there's even a slight chance of wind around you, watch the clip immediately to check the sound quality. If the wind does ruin the audio, you can then either film the scene again or you can do a voice-over in post-production.
Learn the basics of video editing
Viewers immediately lose interest in videos that are badly edited. Firstly, make sure you have access to an editing program. There are various free video editing platforms, paid programs and even editing apps for mobile phones. Secondly, educate yourself on the basics of video editing with the program you use (YouTube tutorials are quite helpful). This ensures you have a high-quality final vlog. You can incorporate your brand into the vlog in the editing process, because you can add subtitles, logos and animated elements to the footage. 
Use social media like a boss
Social media is key to any online endeavour, so make sure you share your vlogs on every platform you possibly can. Make sure you stick to your brand, even when you're posting on social media. Facebook videos, IGTV on Instagram and even Twitter links are great ways to share your vlogs with the world. Make sure to include a share option every time you post a vlog on YouTube or Vimeo. 
Network with other travel vloggers
When you're starting out as a travel vlogger, it's a good idea to reach out to other vloggers who are going to the same places as you are. Doing collaborations will help build your reputation. The other vloggers' audience will start seeing you as another established vlogger. You might also gain some followers from these collaborations. 
Be dedicated and consistent
If you're going to be a vlogger, you need to BE a vlogger. You need to live and breathe for filming opportunities and constantly look for more content. Practice makes perfect, and you will develop your presenting, filming and editing skills with each new vlog. Have an upload schedule to keep yourself accountable for posting regularly. 
Don't do it for the money
Like with all online freelance media, the income is up to you. At the beginning, there is no guarantee that you'll earn anything from your vlogs. The more views and followers you have, the more advertisers and sponsors will approach you and the more affiliate projects you can do. Follow the example of most other bloggers or freelance journalists and have a day job – especially as you're starting out.
Keep these pointers in mind and become a travel vlogger that everyone wants to watch. Use your interest in film and travel and focus it into this exciting, specialised hobby. Before long, you'll also be travelling to exotic places and sharing your adventures with your vlog followers. 
Blogger Profile - Rouxne van der Westhuizen
Rouxne has an Honours degree in journalism and media studies. She is the course director for the Travel and Environmental Journalism and specialises in wildlife conservation writing, travel journalism and blogging.
Kickstart your wildlife media career!
Find your perfect wildlife media speciality program