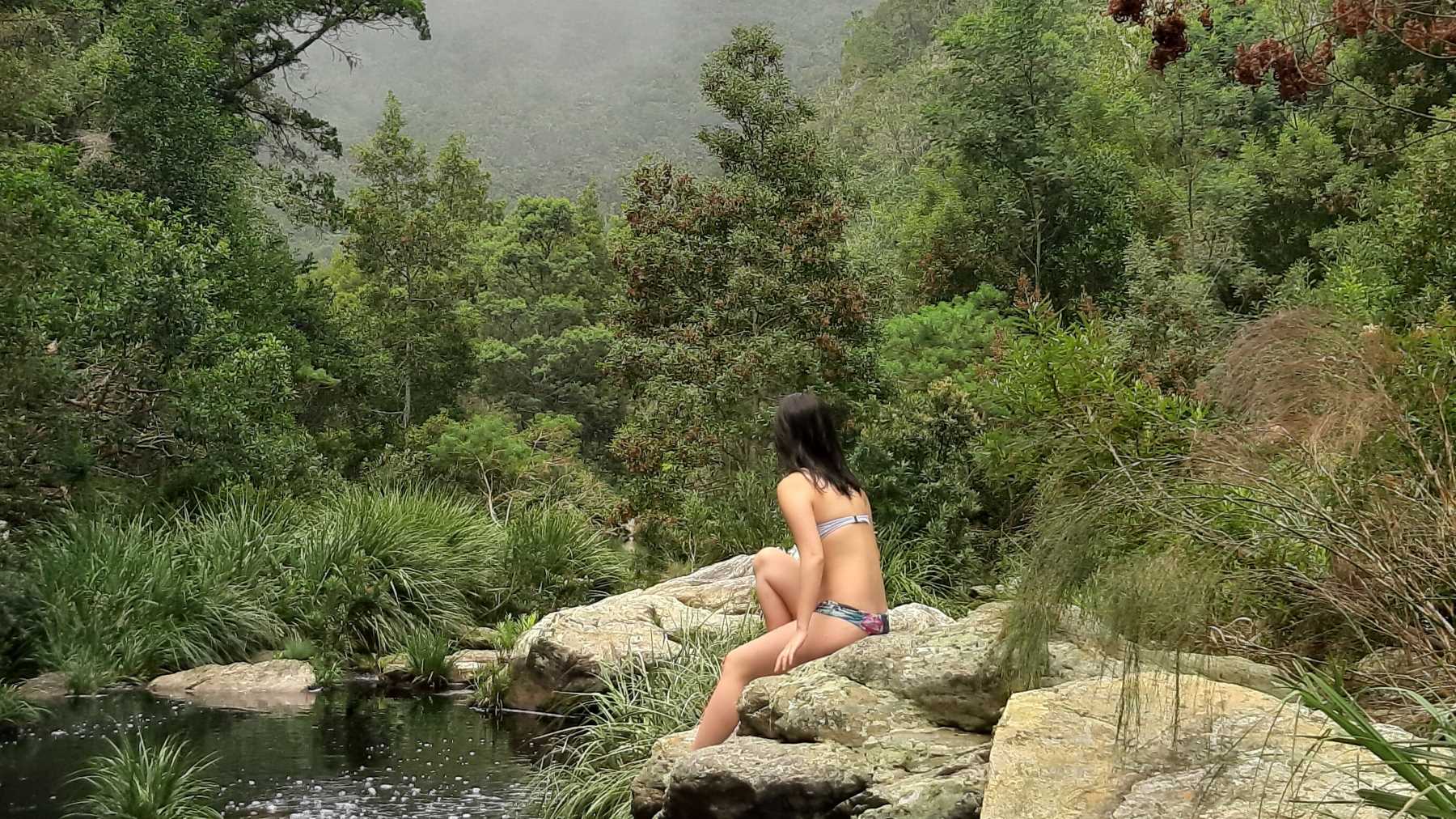 Journalism adventures: Forest bathing in Wilderness
Next time you need to feel revived, we recommend going forest bathing in Wilderness. Deep in Melissa Dalton's backyard, there is a route that goes through about a kilometre of indigenous Garden Route forest. It leads to a hidden spot along the Kaaimans River. A secluded swimming hole with lots of boulders and walking space on the banks. Who knew that this picturesque scene was waiting for us in the last week of our travel journalism month?
Michelle Fan, a student from Los Angeles who is originally from Singapore, is crazy about the outdoors. When she arrived in South Africa, she wanted to write an article on forest bathing. No better place to write such an article than in the Garden Route! Africa Media operates in one of the greenest and most forest-rich regions in South Africa. We got in touch with Melissa, the administrator of the Precious Tree Project. She is a naturopath and knows all there is to know about the healing aspects of nature. She lives in Hoekwil in Wilderness. It's a neighbourhood immersed in the indigenous forest of the area. We visited her at her home, and she was kind enough to give us a full-on forest bathing experience.
Entering the forest
Melissa led our group down the pathway to the edge of the dense forest. On the way, two dogs joined us – her neighbour and business partner, Ray, is their owner. He also lives in the hidden section of forest houses. The two dogs knew the route, and they showed us the way. We ducked under branches and leaned over fallen tree trunks and branches on our way.
She told us about the benefits of being in a forest. The chemical emission from the leaves and the attuning of your senses to each detail around you all contribute to the forest bathing experience. For a long while, after she spoke, we walked in silence. As we passed gnarled tree trunks, we had to touch it, run our hands over mosses and leaves and grasses and branches. She told us to breathe deeply, to fill our lungs with the freshness of the forest smells.
We tried to identify each smell we could pick up. We also started growing more attentive to the sounds of the forest. Apart from our crunching footsteps. Birds, wind, rustling leaves, the faraway river. Furthermore, we were more observant about what the forest looks like. The way that sunlight filters through the canopies, how it changes the colour of the leaves from deep green to light and gold. The veins of each leaf, the fineness of the moss.
At the Kaaimans River
When we arrived at the river, we took in the beauty of the location. It looked like the type of place that should be swarmed by tourists! But because it was so secluded and nestled within the forest, it was completely ours for the morning. Rebecca and Michelle entered the cold, mineral-rich Coca Cola-coloured water with Melissa. Steven took pictures while I soaked in the surroundings with my feet in the water. Forest bathing in Wilderness – does it get more tranquil than this?
That is, essentially, what humans find in nature, according to Melissa. Tranquillity is our innate reaction to being in nature. Sometimes, in the rush and hustle of manmade life, people forget that their roots are in the earth itself. Forest bathing, swimming in a river or spending time in a natural environment reminds us of where we come from. That's why you always feel revived after a hike, swim or forest activity.
The forest as a place of peace and healing
Forest bathing comes from the Japanese coined term, 'shinrin yoku'. The Japanese were the first to explore the physical and mental benefits of being in a forest. This includes using all your senses to immerse yourself in the surroundings. It's now a worldwide term and more people seem to be turning to this activity as a revitalising breakaway. It's even believed to have healing properties. Melissa, for instance, doesn't believe in modern medicine. She says that nature (including the human body) has everything we need to heal.
Our forest bathing in Wilderness was only one of the adventures we embarked on during 2020's first month of journalism. Michelle is having this forest bathing article published in a local community newspaper! Watch this space for more info…
To join in on these adventures, join our Travel and Environmental Journalism program. We explore all the travel, cultural and environmental stories in the Garden Route. Writing for local magazines, you'll kickstart your career as a freelance journalist. Submit an application on our website and we'll get in touch!
Blogger Profile - Rouxne van der Westhuizen
Rouxne has an Honours degree in journalism and media studies. She is the course director for the Travel and Environmental Journalism program and specialises in wildlife conservation writing, travel journalism and blogging.
Kickstart your wildlife media career today!
Find your perfect wildlife media program