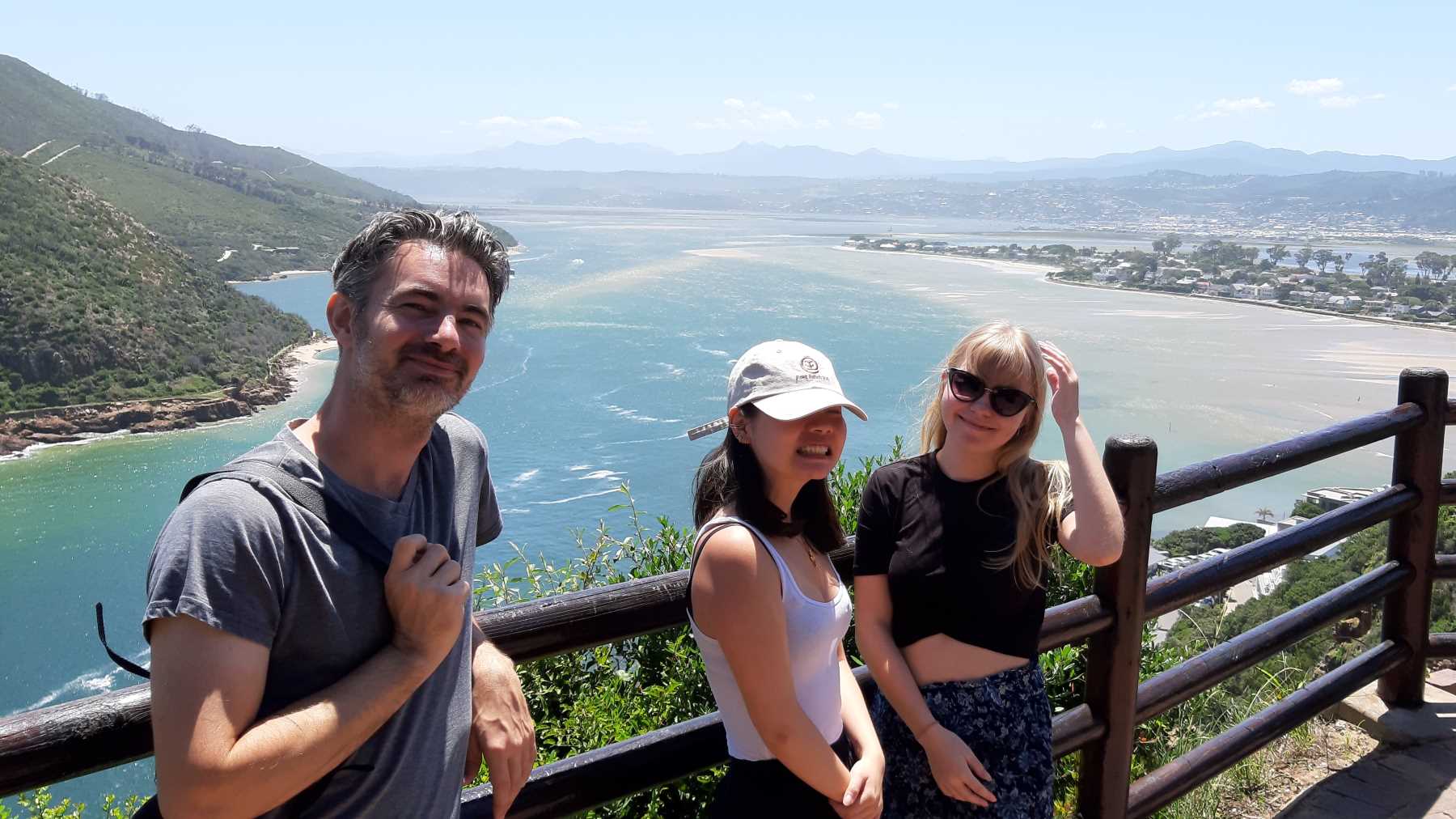 Journalism adventures: Our epic Garden Route road trip
Travel writers have the type of job that other writers often envy. Instead of sitting in an office behind a computer screen, travel journalists spend most of their workdays away. They visit new and exciting places, meet inspiring people and find stories that resonate with their adventurous and curious readers.
Each month, Africa Media welcomes a new group of journalism students from all over the world. They come here to learn about building a career in the field of travel and environmental journalism. Furthermore, their goal is to find and write stories that local travel magazines will love (and hopefully publish). Our team of journalists undertake various trips and adventures along the Garden Route, the Little Karoo and beyond to find these stories.
In February, we explored a selection of Garden Route towns by means of a four-day road trip in Africa Media's silver Toyota Hilux bakkie. The group consisted of myself (the local) and the students: Rebecca from England, Michelle from Singapore, and Steven from Canada.
Africa Media
Academy
Building the next generation of wildlife and environmental media specialists
First stop: Wilderness
From Great Brak River, just outside of Mossel Bay, we drove for half an hour to our first pitstop: Wilderness. This is a town known for its green forests and intimate proximity to the ocean. In fact, the tumultuous, misty waves and the long stretch of beach is the first thing you see around the corner at Dolphin Point on the N2 from George. Wilderness is home to many creative souls. Artists and artistic people are abundant here, as well as people who like living close to nature. "In the forest," as they describe it. Melissa Dalton is one of these Wilderness residents. We sat down with her for lunch the week before so that one of our students, Michelle, could interview her about her NGO, the Precious Tree Project. We even volunteered for a day, helping to plant some yellowwood trees in strategic patches.
We had a late breakfast at the tropical island-themed restaurant, Cocomo. Then we continued on our road trip towards Knysna. On the way, we passed the town of Sedgefield. Here, you can support local artists, farms and businesses at the Scarab Art Village, Mosaic Village Wild Oats Farmers Market every Saturday morning.
Second stop: Knysna
Arriving at Knysna, we were a little early to check-in at our planned accommodation. So, we decided to explore Leisure Island, where we happened upon a quaint antique store and farm stall. We had a lovely picnic lunch in the tree-lined park in the middle of the island. After this, we drove to the famous Knysna Heads, two towering rock cliffs that form the portal from the ocean to the Knysna lagoon and harbour. The lookout from the East Head has spectacular views over the lagoon, the town and the West Head – this latter one is a little more difficult to get to by car. 
That evening, we explored the curio shops at the Knysna Waterfront and decided to take one of the sunset ferry rides from the docks to the Heads. The houses on the Heads and the tranquil water of the lagoon looked even more picturesque in the golden light of 7pm on a February night. 
While in Knysna, we paid a visit to the Eden Empathy Initiative. It's an non-profit company started by local community members to provide trauma therapy and emotional healing using interaction with  horses, dogs or even snakes. They mainly try to instil empathy and compassion in youths who grew up with violence and abuse as a domestic and societal norm. Eden Empathy gave us a demonstration of their horse-assisted therapy, in order for Rebecca to write an article on it. It was an intense and emotional experience – who knew that you could get to know yourself so much deeper in the company of a horse? 
Wildlife filmmaking
Produce your own 5 minute wildlife documentary in wild Africa
Environmental & Travel  Journalism
Explore Africa whilst training to become an environmental or travel journalist
Third stop: Plettenberg Bay
After having lunch with the Eden Empathy team at the River Deck restaurant near Buffels Bay, we went on our way to Plettenberg Bay. It's the town with some of the most beautiful beaches in the country, with kilometres of it stretching along the coast as far as the eye can see.
It was the perfect afternoon to explore the local markets on Main Street. We took a moment to take in the ocean view from Main Beach, at the local Ski Boat Club bar and restaurant. We didn't have a specific story to do in the Plett area itself yet, so this was a passing-through and sight-seeing day. And, of course, a great opportunity to find people to interview for our Humans of the Garden Route blog! In every town we visit, we find people with inspiring and fascinating stories to tell, trying to mimic the initiative started by Brandon Stanton of Humans of New York. 
On the way back to our accommodation, we stopped at Whale Tail Lookout Beach to wait for the sunset. Steven is also a photographer (go check out his Flickr page!). He especially enjoys finding beautiful landscapes to capture on film. 
The next morning, I dropped Steven off to attend a Photographic Adventure at Tenikwa Wildlife Rehabilitation and Awareness Centre. Here, he got to meet and photograph some cheetahs, serval, caracals and other rehabilitated wildlife. Rebecca, Michelle and I spent the morning having coffee at Old Nick Village outside of Plett. There are several artisan shops, including a weaving mill, a crystal shop, a Belgian chocolaterie, a pottery shop and designer clothing stores. 
Fourth stop: Jeffrey's Bay
The drive from Plett to J-Bay was a bit longer than the driving stretches we've had so far. Being able to road trip through the lush green and blue scenery of the Garden Route, however, makes it more than worthwhile. We crossed the border from the Western Cape to the Eastern Cape Province at the Bloukranz Bridge, where I've taken many students to go bungy jumping in the past. February's group, however, wasn't as keen on jumping off bridges as they were on writing stories! 
When we arrived in Jeffrey's Bay, we immediately started looking for Woltemade Street – the street where South Africa's first plastic road opened last year December. We drove over about a kilometre of dark tarred road before we realised: that was it! The revolutionary plastic road did not even have a sign in front of it stating its claim to fame. You just had to find out the street name, and figure out that the 1,7km dark patch of road in Woltemade street is actually the asphalt and plastic pellet mix you were looking for.
On closer inspection, it did show some differences from a usual, newly tarred road. Steven, who was writing an environmental piece on it, took photos of the road. We spoke to the Kouga Municipality about the plastic road project and the environmental significance of such an endeavour. Interestingly, the plastic road was a collaboration between the provincial government, a local construction company and the Scottish initiative behind the building of plastic roads, MacRebur. 
We had a lovely final night on our road trip by staying on the second floor of a lagoonside apartment building in Marina Martinique. Jeffrey's Bay is the surfing hotspot of South Africa.
So, the next morning, we could not end off our road trip before paying a visit to the Billabong, Roxy and Quiksilver (among others) surfwear factory outlets. We also spent some time at J-Bay Surf Village, a block of buildings with more designer clothing stores, beach-bar style coffee shops and even furniture stores. We needed to drive all the way back to Mossel Bay from Jeffrey's Bay, but first, we made sure we took in as much of the town as we could. 
This successful and productive road trip is only one example of the many adventures that our journalism students undertake. Follow this blog to keep updated on Africa Media's other exciting journalism trips. If you'd like to join in on these adventures, look no further! Go take a look at our Travel and Environmental Journalism program.
Blogger Profile - Rouxne van der Westhuizen
Rouxne has an Honours degree in journalism and media studies. She is the course director for the Travel and Environmental Journalism program and specialises in wildlife conservation writing, travel journalism and blogging.
Wildlife Photography
Build a professional photographic portfolio whilst exploring wild Africa
Underwater Photography
Build a professional photographic portfolio whilst exploring underwater Africa
Underwater Videography
Master the art of underwater filmmaking and videography in tropical Africa
Kickstart your wildlife media career today!
Find your perfect wildlife media program